A Full Guide To CBD Beauty & Self-Care Products
Summer means we are spending more time in the sun. Even though this is arguably the best time of the year, spending more time absorbing the sunshine means more potential for damage to our skin. Cannabidiol, also known as CBD, has taken the beauty market by storm. CBD beauty products are not only used to treat pain and anxiety but also boast having antioxidant and anti-inflammatory properties.

Aging, along with harmful UV exposure, damages the skin. Production of collagen, the protein that combats fine lines and wrinkles, declines as we age, and exposure to UV rays fast-tracks the aging process. CBD can possibly slow down this process by acting as a defense against damage for the skin and cultivating collagen production. With so many products out on the market, where do we start?
Eyes: SkinPro Hemp Under Eye Cream
For the sensitive skin around the eyes, we recommended trying SkinPro's Hemp Under Eye Cream. Enhanced with phytocannabinoid-rich (PCR) hemp seed oil and Retinol, this cream targets dark circles, bags, and puffiness around the eyes. It also contains jojoba oil to nourish, aloe vera to combat inflammation, and alfalfa seed extract to brighten skin.
The best part? Unlike other luxury eye creams, a 30mL bottle of SkinPro's Hemp Under Eye Cream costs less than $50 and lasts for six months.
Face: Khus + Khus Sen Face Serum
Khus + Khus' Sen Face Serum touts skin-revitalizing properties. This serum contains a blend of CBD oil and botanical ingredients, including Somalian frankincense CO2 for cell regeneration, wild-harvested Nepal rhododendron for healthy skin, and black currant seed oil for inflammation reduction.
This face serum is approved for combatting acne, inflammation, dry skin, fine lines, and hyperpigmentation. The botanical combination boasts antioxidant, restorative, and anti-inflammatory properties. A 50mL bottle of Khus + Khus Sen Face Serum costs $80. The lightweight formula is perfect for use in the morning and at night.
Face: Myaderm CBD Blemish Control
Another benefit of CBD is that it helps with oil control and inflammation, two culprits related to acne. It provides an acne spot-treatment for pesky breakouts and does not dry out the skin. The formula is THC free and only includes organic ingredients like green tea leaf extract and organic coconut oil.
Myaderm CBD Blemish Control contains 15mg of CBD and costs $25.
Lips: Vertly Hemp Infused Lip Balm
Finding quality lip balm (sans all the added chemicals) is hard to find in today's beauty world. Boasting 25mg of hemp CBD, Vertly's Hemp Infused Lip Balm delivers a moisture-packed blend of coconut oil, beeswax, and shea butter for maximum hydration.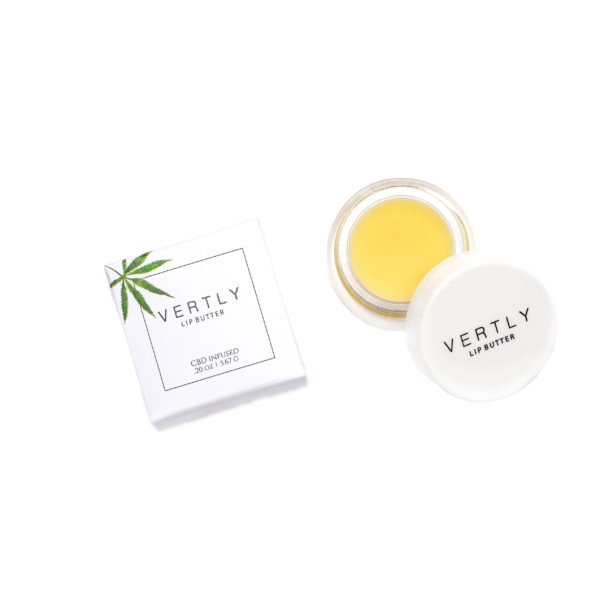 This lip butter not only moisturizes the skin, but also fights any inflammation that may occur from trauma or sun exposure. Vertly's Hemp Infused Lip Balm costs $22 and is available in three scents: cocoa, peppermint, and rose.
Masks: Kana's Lavender CBD Sleeping Mask
Sleeping masks have made skincare easy, even for the laziest enthusiasts. These masks are only applied at night before going to bed and rinsed off in the morning.
Kana Sleeping Mask With CBD Oil
Kana's Lavender CBD Sleeping Mask makes the list because of its moisture-packed formula. Lavender oil heals inflammation; hyaluronic acid helps the skin retain moisture, and; hemp seed extract alleviates inflammation from acne and nourishes the skin with vitamins and antioxidants.
This lavender scented mask is calming and soothes skin, making it a great option for bedtime. A 50mL jar of Kana's Lavender CBD Sleeping Mask costs $55.
Lotion: Lord Jones' Pain & Wellness Formula Body Lotion
Lord Jones High CBD Formula Body Lotion
Lord Jones' High CBD Formula penetrates the skin to deliver moisture and combat sore muscles and joint pain. This vegan and cruelty-free lotion is lab-tested to ensure the formula lacks parabens, sulfates, and synthetic dyes that are harmful to the skin. The lotion also provides a cooling sensation upon contact, which helps alleviate pain. Each pump contains 1 to 2mg of CBD.
A 50mL bottle of Lord Jones' Pain & Wellness Formula Body Lotion costs $60. It is available in Lord Jones' Signature Fragrance – which includes fresh notes of sage, mint and green citrus – as well as fragrance-free.
Skin: De La Beauh Thin Mint Bath Bomb
There is no denying that we all love Girl Scout cookies. We may even love them so much that we would want them in the form of bath bombs. De La Beauh delivers with their Thin Mint Bath Bomb. This mint-colored bath bomb has all the fizzle fun of your average bath bomb while delivering the pain-relieving properties of CBD.
This peppermint-scented bath bomb boasts aromatherapeutic benefits, including reducing stomach aches, improving mental focus, boosting energy, and relieving headaches. It also provides medical benefits, such as providing relief from symptoms of chronic conditions, improving the immune system, and killing bacterial and fungal infections.
De La Beauh's Thin Mint Bath Bomb costs $15 and contains 30mg of CBD.
Hair: Fig+Yarrow Hair+Scalp Tonic
Whether you wash your hair once a month or once a week, Fig+Yarrow's hair tonic is a necessity to any hair care routine. This tonic contains hemp sourced from Canada, as well as other hydrating oils like coconut, argan, and avocado oil.
One of the hallmarks of this product is its versatility. The dropper applicator allows precise application of the tonic to the scalp, hair or beard. Adding a couple drops of Fig+Yarrow's Hair+Scalp Tonic into shampoo or condition helps boost the nourishment to your hair.
A 4-ounce bottle of Fig+Yarrow's Hair+Scalp Tonic costs $34.
We love these beauty products, but there are so many other products out there besides the typical lotions and creams. Other purported benefits of CBD products include to stimulate hair growth, regulate mood and sleep, and are now coming out in makeup. This definitely peaked our interests, so we also took a look into some (less practical) CBD beauty products out on the market.
CBD Supplements
CBD supplements can come in the form of capsules or oils. Filled with various nutrients and antioxidants, the supplements have a few beauty benefits. First, supplements have many of the same capabilities as creams and serums. They may reduce and treat acne due to the anti-inflammatory properties of CBD oil.
Second, the antioxidant properties of CBD help protect the body and brain from damage caused by free radicals. Studies have shown that the antioxidant properties of CBD can counteract the effects of free radicals that can contribute to neurodegenerative disorders like Alzheimer's disease.
What are some of the best supplements on the market?
Pure Kana sells bottles of CBD capsules, with each bottle containing 30 capsules. Each capsule contains 25mg of certified organic CBD and is non-GMO. One bottle of Pure Kana's CBD capsules costs $89.
Green Roads sells CBD capsules in a bottle of 30 capsules for $90. Like Pure Kana, each capsule contains 25mg of CBD. The capsules contain CBD hemp oil, safflower oil, and vegetable cellulose and are also perfect for combatting anxiety.
Charlotte's Web Hemp sells capsules in two different strengths. Consumers can purchase CWHemp Simply Hemp for $35 (30 capsules) or $60 (60 capsules). Each capsule contains 18mg of CBD. The Simply Hemp + Extra are also available in a bottle of 30 or 60, and cost $70 and $120, respectively. These capsules boast an array of benefits and are a great option for reducing anxiety and chronic pain.
CBD is also starting to make its way into hair care. CBD is now found in shampoos, conditioners, detanglers, and other hair and scalp products. There is even CBD infused mascara! MILK's KUSH High Volume Mascara contains hemp-derived cannabis seed oil to help fuse the fibers in mascara to lashes. The mascara conditions and hydrates eyelashes and makes them look healthier, even without the mascara.
MILK Makeup's KUSH Mascara costs $24 and is available in a standard size and a mini size.
CBD extracts have become a favorite in the beauty industry, and its use is still being discovered. These beauty products are removing the ingredients that are bad for our skin and exchanging them for hydrating, nourishing creams and serums. Studies provide evidence supporting that cannabinoids have anti-inflammatory and anti-aging properties, and have been beneficial in addressing medical conditions like acne, eczema, and psoriasis.
Hemp seed oil does not clog pores as much as other oils and is an excellent moisturizer for dry, cracked skin. Hemp oil and CBD-based products are gentle enough to replace everyday skincare products. Be careful – not every product with a cannabis label contains CBD. Many beauty products only contain hemp seed oil which does not have the same benefits as products that do contain CBD.
Either way, CBD-infused products have made their mark on the beauty industry, and don't seem to slow down anytime soon. It's exciting to think about the next products that will come out as more information about the benefits of CBD is released. What are your favorite CBD beauty products?